Buxton-Data Analytics that Help Healthcare Organizations Reach New Potential
Colossal data volume is one of the salient aspects of population management. If unlocked, healthcare and public sector organizations can benefit a great deal from the insights and build useful solutions across the healthcare value chain. Buxton, a consumer intelligence company, SaaS developer, analytics partner, and trusted advisor to many organizations, has a compelling record of serving over 300 active clients, including health systems, specialty health and retail health. By helping clients connect the dots starting from identifying and categorizing patients geographically, demographically, and psychographically, Buxton helps them reach new potential. They start with building site selection solutions to operate in the most conducive ambulatory locations, enabling convenience and accessibility to patients and consumers. "To do this, we combine our client's data with hundreds of our unique datasets to identify the patterns or combinations of data that can predict performance, by service line or business requirement. We create actionable insights that support real estate, operations, and marketing needs," says Bill Stinneford, SVP, Buxton.

Leveraging Over 600 Unique Datasets!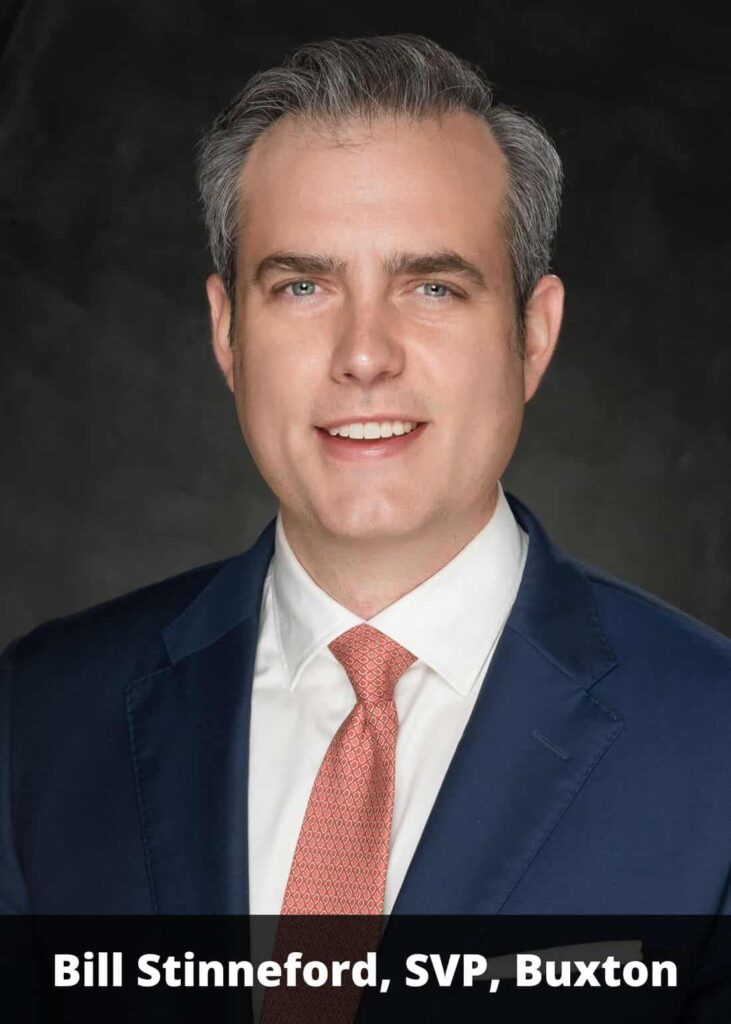 The firm has over 600 unique datasets ranging from household-level data to payor mix data to mobile data that are used to create solutions for clients. Their datasets include demographic information for over 128M households in the U.S., up to 8 individuals within the household, psychographic/behavioral segmentation data, outpatient demand by service line and inpatient demand by MDC and DRG. Lastly, their data spans covered lives by payor type at the patient zip code level, healthcare points of interest across the U.S. and mobile datasets that adhere to user security and privacy best practices. Using demand, supply, psychographics, demographics, and other data, Buxton helps identify the best, most convenient locations to serve a group of patients. For example, Cooper University Health Care used Buxton's analytics to optimize outpatient location growth and expand its ambulatory network beyond Camden, NJ.
During the pandemic, many clients became even more intentional regarding payor mix for their deployment of limited capital, providers, and marketing resources. Buxton helped private equity-backed specialty health clients who were looking for locations with the highest commercially insured population. They were also able to cater to pediatric dental clients looking to locate in underserved, high Medicaid trade areas based on the good reimbursement rates for pediatric dental services. "The pandemic forced Buxton's clients to become laser-focused on the efficient delivery of services while accounting for constrained resources and tight timelines. In turn, we developed solutions to accommodate a wider array of business questions with minimal to zero development time required," Stinneford continues. "We supported the placement of pop-up COVID testing sites and back-to-school testing for major universities. Buxton has the experience, data, and solutions to support billion-dollar decisions all the way down to a simple question from the same environment."
RWJ Barnabas Health has also used Buxton to develop access strategies via brick-and-mortar or digital to resonate with consumers' changing needs and preferences. Additionally, other clients have leveraged Buxton for data and analytics to understand the potential of an existing healthcare facility, improve the performance accordingly, and add appropriate service lines to facilities that do not already offer them. "This way, clients can maximize their limited capital and staffing resources at facilities with the highest opportunity for success," adds Stinneford.
Buxton also helps clients go beyond demographics to understand patient lifestyles, communication preferences, and likely healthcare needs to support patient acquisition efforts. Buxton's patient acquisition and retention solutions help them know who their patients are for each service line so they can utilize those insights to market to the most valuable potential patients with the right message and right marketing vehicle. "That way, our clients can stop marketing to thousands of consumers who are not good prospects simply to reach the ones who are. Reduce waste by using a targeted approach and channel the savings into other marketing initiatives that allow them to grow their active patient base efficiently and effectively," elaborates Stinneford.
We often refer to our clients as being some of our best developers, as they help us think about new and unique solutions using our data and tools," explains Stinneford.
Meeting Clients Where They Are
Buxton meets their clients where they are, based on their specific needs. "We offer both custom solutions and platform-only solutions. We surround each client with a client management team that facilitates every step of the process from onboarding, development/implementation, training, and ad hoc analytics support. Our client management team acts as a confidential and objective extension of the client's actual team," Stinneford says.
SCOUT, Buxton's flagship platform that offers consumer analytics and mapping capabilities is built on a Google Maps architecture, which makes it easy for clients to visualize and report on a variety of insights that support their business needs. Clients using the SCOUT are able to envision existing facilities, including patient households, average drive times, outpatient demand, providers and locations, payor mix, consumer, market and demographic data as well as general points of interest, including businesses, educational institutions, retail centers, and more. "We often refer to our clients as being some of our best developers, as they help us think about new and unique solutions using our data and tools," explains Stinneford. For instance, the company is in the process of rolling out a new SaaS application called "IQ" that clients suggested; the new app allows users to answer macro-level questions with intelligent data queries at scale. Clients will be able to query a combination of their own data and Buxton's data to answer questions in five broad categories related to: client locations, public places (not owned/operated by the client), consumers, standard geographies (markets, zip codes, etc.) and specific brands. Also, Buxton is beginning development of a Social Determinants of Health (SDOH) solution that will enable their clients to analyze the key areas that impact health outcomes, including economic stability, neighborhood and physical environment, education, food, community, and health care system.
To continue contributing to the healthcare industry, particularly population care, Buxton draws its learnings from the other verticals they serve, including retail, restaurant, public sector, and private equity. Buxton's wide variety of clients requires that they maintain datasets to support each of their industries. As such, clients in unrelated industries benefit from the access to this data as innovation in care delivery models accelerates as the lines between healthcare and convenience-based industries continue to blur.
"A better understanding of lifestyles, coupled with the data we collect, enables healthcare organizations to know where to direct specific resources," Stinneford concludes. "This level of insight gives organizations information they need to do their part in improving population health."