Reimagining Healthcare Delivery
We're in the midst of a seismic shift in healthcare, sparked by the recognition that patients want and deserve healthcare services on their own terms, fueled by the urgent need to achieve the "Quadruple Aim" (better health, better care, lower cost, improved provider wellbeing), and accelerated by technological innovation. To make sense of these changes and to forecast where we are heading requires that healthcare leaders appreciate and develop strategies that tackle a few key themes:
Patients Will Tell Us Where to Focus
As health systems move to digitize their operations to meet consumer demand, it's clear that many of our core operational and transactional processes, such as scheduling, fee estimation, records release, bill payment, and more, were not originally designed with the patient's needs in mind. So, even simple ideas like online scheduling can require significant re-engineering of internal processes and tools.
But beyond these transactions, patients will expect healthcare on very different terms in the future, with more emphasis on the experience and convenience of care. The recent $500M funding round and $5B valuations of digital health startup "Ro" highlight this trend. Ro now offers a virtual primary care service, delivery pharmacy, specific clinical services for men's/women's health, diagnostic services, and more (most notable is their recent acquisition of WorkPath). In essence, they're shifting the physical location of health into the patient's home and shifting choice and agency back to patients themselves. How healthcare systems react to this shift in perspective will be vital. Should health systems, for example, consider sending phlebotomists to patient homes, especially given the broad adoption of telehealth during the COVID-19 pandemic?
Alignment of Financial Incentives Will Spur Digital Health Innovation
Some of the best examples of digital health innovation come from organizations that either operate a health plan or have a large proportion of value-based contracts. Examples include Geisinger, UPMC, and Intermountain Health, whose digital health interventions are shown to improve patient outcomes while also reducing care delivery costs. In the fee-for-service model, with limitations on which services are reimbursed and with differences by payer, health systems see risk with limited value, even when there is a compelling clinical case. In the same way that COVID-19 jumpstarted telehealth, value-based contracts will accelerate digital health innovation.
There is abundant evidence that chronic disease management strategies work to improve patients' health outcomes and reduce cost. This is clearly one of the greatest areas of opportunity for health systems to achieve the aim of health for populations through digital tools. For health systems to pull this off will require commensurate investments in quality improvement, analytics, and informatics resources to address key questions that arise. How do you best design a home-based digital therapy plan? Can you ensure the intervention will be accessible and equitable to all patients? Can you demonstrate better health outcomes and cost savings? The key to sustainability will be the degree to which health systems can justify the expense of these interventions.
Healthcare at Home Will Become the Norm
As we strive to maintain the health of individuals and populations, with an explicit shift towards care management and promoting prevention, the logical location for these interventions will be the patient's home, where they spend most of their time, not the clinical setting. With some gaps, it is now feasible with off-the-shelf technologies and modern interoperability standards to identify at-risk patients, "prescribe" a bundle of digital interventions via a portal, receive and aggregate those data for a clinical team to review and respond, and provide targeted interventions to patients that need it the most.
Backed by Amwell, Amazon, Ascension, and Intermountain (to name a few), the Moving Health Home Alliance was formed recently to advance policies and legislation that support home-based care. The net effect of home-based care, telehealth, digital therapy plans, remote patient monitoring, etc., will blur the distinction between clinical care sites. As patients ebb and flow between home and clinical sites, so will their health and device data. To continuously support health regardless of the site of care will require a fundamental reimagining of healthcare delivery and the technology to support it. Teams of care coordinators will track patients who are assigned digital care bundles, acting likea sort of air traffic control and nudging patients back towards health with a variety of tools, like reminders, behavioral incentives, on-demand telehealth visits, care coordination. Today, most health systems are not designed to provide care like this, but a number of forward-thinking health systems are envisioning that future.
Healthcare Systems Will Need to Make Strategic Investments to Evolve Their Digital Portfolio
All of this may feel overwhelming, but healthcare systems should approach it in a stepwise fashion, and starting with foundational tools to digitize otherwise manual processes. While not novel, these are necessary building blocks of an enhanced digital experience for patients. Next, health systems can add tools that meaningfully enhance the patient's journey through technology, like inpatient portals. The next logical step is to apply technology to address the health needs of specific populations, like adults with CHF or children with congenital heart disease, through pre-defined care "bundles".
The final destination is a rethinking of care delivery that supports and sustains health and wellbeing rather than focusing on episodic disease management. These are not necessarily meant to be followed in a given sequence – health systems can work on advanced tools to support care while still optimizing their foundational digital experience (and ideally, they should).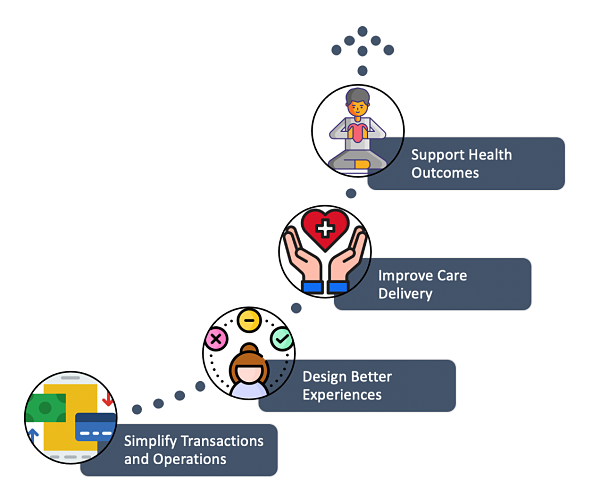 Figure 1: To adapt, health systems must deliberately shift their digital focus from transactions, to experiences, to care delivery, and ultimately ways to continuously support health.
With nearly $20B in digital health investments this past year, double the prior year, there is a clear indication that healthcare is ripe for significant technological disruption in the years to come. Will your health system be prepared when it does?