Trisotech-Bridging the Business-IT Divide

The Healthcare industry is very large and extremely diverse. During the COVID-19 pandemic the spotlight has mainly been on the front-line workers – the caregivers and providers – but there are also multitudes of back-office workers. Large-scale healthcare organizations are often in linked businesses networking physicians, acute care hospitals, long term care facilities and insurance organizations. All these organizations need secure standards-based software to help them store and retrieve data as well as standardize and centralize workflows and decision making across all parts of their business. Over two decades ago, when the digital revolution was still at its early stages, a group of friends inspired by the pursuit of innovation and process improvement, laid the cornerstone for digital innovation via digital modeling and business automation. They collaborated to create Trisotech now risen to become a global leader in enterprise software. For more than a decade, the company has been the force de jour in international BPM standards. Today, under the leadership of its original core management team the company is driving innovation in many industries, including healthcare. And through its clear intent of bridging the business-IT divide, Trisotech's Digital Enterprise Suite of modeling and business automation tools is disrupting the healthcare industry!
The company's clientele includes international and U.S. acute care hospitals, healthcare insurance organizations, renowned teaching hospitals and healthcare professional organizations. Trisotech provides very large set of free ready-to-use example workflows and decision services that can serve as templates for practically any kind of healthcare-related need.
Keeping 'IT' Simple: Blending IT Challenges with Clinical Practices
"Moving to evidence-based practices is very desirable for healthcare organizations, but equally difficult. Subject matter experts (SMEs) and clinicians constantly work with IT to translate large volumes of regulatory, new medication and procedure information into organizational policy," explains Denis Gagné, a Founder, CEO, and CTO of Trisotech. For more than two decades Gagné has been a driving force behind the majority of international BPM standards in use today. For the Object Management group (OMG), he leads the BPM+ Health Community Ambassador program, is Chair of the BPMN Interchange Working Group (BPMN MIWG), is an active contributing member of the Business Process Model and Notation (BPMN), the Case Management Model and Notation (CMMN), and the Decision Model and Notation (DMN) "There is a consistent and expensive requirement for SMEs using existing systems to keep information up-to-date. Today, on average, the time between an emergence of new healthcare research and its application in clinical practice is long – in some cases as long as 17 years!" he adds.
Most healthcare providers aspire for standard processes and decision methodologies that are centralized, easy to understand, automated, and quickly changed by SMEs without resorting to the need for heavy IT involvement. This frees up IT resources to work on centralizing, consolidating and making available the latest technologies across organizational silos. This includes providing technologies to support standards like FHIR for data storage and retrieval and CDS Hooks for clinical decision support in real-time at the point of care," adds Gagné. Trisotech's Digital Enterprise Suite leverages the BPM+ Health standard notation (BPMN, CMMN, and DMN) and other open IT standards and offers a consolidated view of the interactions and multiple touchpoints with patients, care pathways, and workflows at the point of care. These modeling and automation solutions allow healthcare organizations to easily define and deploy evidence-based best practices.
Automation and Speeding Up Decision Making
Under the direction of its CMIO, Dr. John Svirbely, Trisotech has developed evidence-based workflow and decision models that are human-readable, machine automatable, and embeddable in most medical encounter systems. Organizations can create their own automatable models but Trisotech's also provides nearly 1,000 free pre-built models including customizable care pathways, clinical guidelines, and healthcare decision calculators using the BPM+ Health standard. This way, the suite enables practitioners to stay updated, accelerate solution adoption and ensure greater consistency in care execution. Additionally, the comprehensive visual models offered by the suite are readable by both, the IT and business people, serving as a guideline specification, the guideline logic, the guideline documentation, and the automation code – all in a single visual artifact!
Automation is a notable aspect of Trisotech's products for healthcare. Back office tasks such as pre-authorization and medical necessity determinations have a huge bearing on patient experiences. They are also time-consuming and expensive. Automation of these types of determination activities expedites decisions for waiting patients, allows for services to be rendered sooner, and increases ROI. Automation paves the way for improving both the perceived and real quality of service for the healthcare organization. As a case in point, one of the largest U.S. medical insurance organizations began using Trisotech's automated models for insurance claims processing tasks, pre-authorization, and clinical guidelines. These automations reduced direct labor, sped up responses to patients, and improved their quality-of-service organization-wide.
In another example, a famous hospital and global healthcare leader approached Trisotech to use its workflow- and decision-model automated services to programmatically create caregiver interfaces in real-time. The client now has always-current and standardized provider interactions based on agreed-upon and approved models.
Another case study involves a popular and highly respected teaching hospital that deployed Trisotech's Decision Modeling and automation, in conjunction with CDS Hooks, to deliver real-time clinical decision support for providers during their patient encounters. As a result, the providers were able to consider alternative diagnoses, treatments, and potential cost-saving measures for their patients.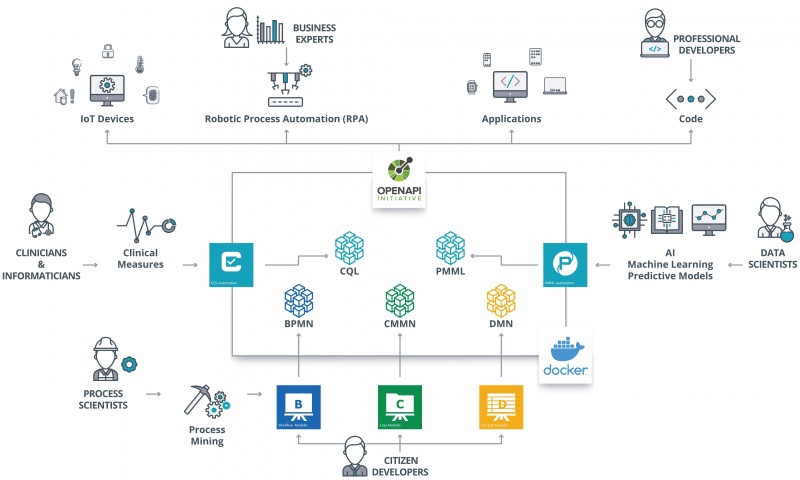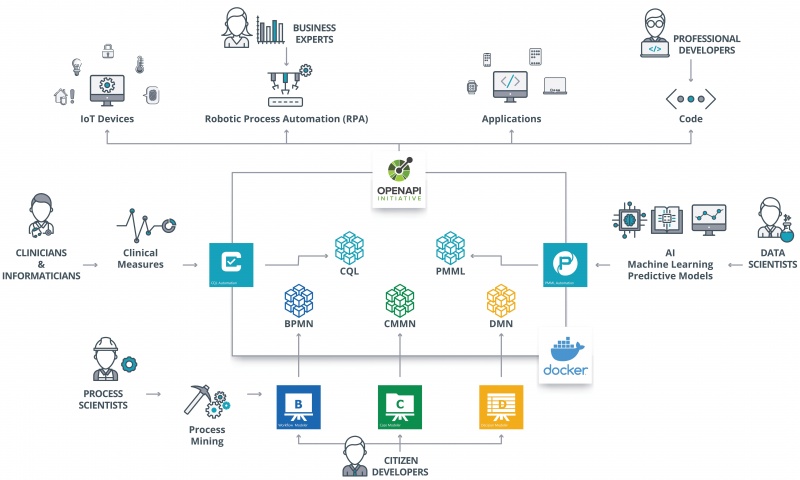 Models created using Trisotech's Digital Modeling Suite provide solutions for a wide variety of healthcare automation needs such as outside agency requirements like Medicare Home Oxygen reimbursement, conventional insurance Total Knee Arthroplasty (TKA) pre-authorization, and internal organizational policies on off-label drug use evaluation and approval. Models like these require multiple decisions, often needing specific patient data. Some of these decisions are based on preset external requirements like Medicare policies and some are specific to the decision-making organization's policies. One size does not fit all, so the models, to be effective, must be well documented and easy to change to reflect changing policies.
Each organization must be able to quickly set guidelines and policies associated with their data and tailored to their respective delivery systems and business models. The HL-7 FHIR standard support in Trisotech's Digital Enterprise Suite allows for data storage, retrieval, and exchange. Trisotech also supports HL-7 Clinical Query Language (CQL) execution in its automation capabilities. "We support visual modeling by SMEs who can reflect changes quickly and automate models with the click of a single button," says Gagné. "Once automated, clinical best practices, care pathways, and back-office workflows create common standards against which quality of service, cost containment, and patient satisfaction can be directly measured and continuously improved."
Broadening the Horizon
Trisotech aims to work directly with organizations worldwide and through BPM+ Health to drive the adoption of standard modeling and automation of healthcare models. " We also plan to continue expanding our library of free workflow and decision models for clients and potential clients," says Gagné. Based on its work in the FinTech sector, the company has developed expertise in the insurance realm and plans to optimize it in medical insurance processing. "This will be especially interesting to large organizations providing both insurance and healthcare services under one organizational banner," beams Gagné.