A CIO's story of managing COVID-19 – AltaMed Health Services

By Ray Lowe, SVP/CIO at AltaMed Health Services
In February 2020, the COVID-19 outbreak wasn't well understood as news reports from Wuhan, China continued to develop. I recall my CMIO and I were getting ready for HIMSS, which was scheduled to begin March 8 in Orlando. Many of the big players were canceling their booths at an alarming rate. We decided to cancel just two days before HIMSS canceled the entire event (March 5).
The following three weeks brought a monumental shift for AltaMed Health Services.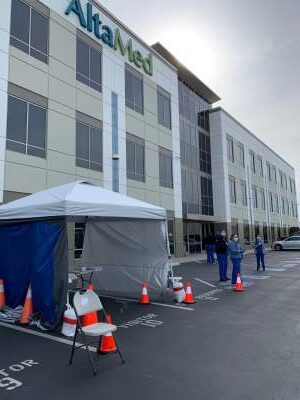 AltaMed, the nation's largest federally qualified community health center, is a company with 3,500 employees providing primarily ambulatory services to the Medicaid/Medi-Cal underserved populations in Los Angeles and Orange counties. Our patients are mostly from Latino and multi-ethnic communities, and many subsist at 200% or below the poverty level. Services include primary care, women services, HIV/AIDS services, pediatrics, dental, behavioral health, and senior care services.
The COVID-19 crisis provided a singular focus for our organization, and we galvanized behind our medical director of infection prevention and executive leadership team. We have daily calls to determine new and constantly changing protocols. Our executive teams looked to government affairs, facilities, clinical operations, HR, communications, finance, purchasing, and information technology to meet the present and forecasted demands. Being CIO, I knew I had a tremendous responsibility to shift the way health care is delivered to the communities we serve. Our organization quickly mobilized to implement the changes needed to serve our patients and our workforce.
Over the course of three days, we developed plans to support a remote workforce and provide virtual meetings, which previously had been an option, but not a widespread regular practice. To further ensure the safety and well-being of our patients and our employees, we incorporated telephone visits and opened drive-through medical evaluation sites in our clinic parking lots which required tailoring our EHR.
Here is our story, week-by-week, of how technology enablement was able to deliver quality results:
Week 1 (March 9 – March 13) – Crisis Management
Remote Workforce – We had initiated a data center and technology overhaul last year to manage 100 to 200 remote workers. The pandemic required us to increase that capacity to 3,000 remote workers. We accomplished this by accelerating migration of our ASE firewalls. We also had to validate sufficient "AnyConnect" and "Duo" licenses to support the demand. Some licensing modifications were required, but fortunately, we were covered under our ELAs.
Virtual Meetings – When we signed the enterprise agreement for Webex in 2019, there wasn't high utilization. Within one week, we needed to ensure that we had the capacity for 1,000 concurrent sessions. The first major test was the successful virtual delivery of the CEO's address to 400+ leaders in the organization.
Laptops – The demand for laptops soared, and we were required to procure 800 laptops with deliveries that lasted through March 27. This required our operations/helpdesk team to scale to triple in size to configure and process 50 laptops a day.
Contact Center – Our contact center has more than 150 team members, and we were able to configure and relocate 50 of them to work from home and continue to serve our patients. We also hired and provided virtual EHR training to 20 new call agents within two days.
The COVID-19 crisis provided a singular focus for our organization, and we galvanized behind our medical director of infection prevention and executive leadership team.
Week 2 (March 16 – March 20) – Plan and Execute: Drive through Clinics
Drive-through medical evaluation sites – The first drive-through clinic was slated to open on March 20. The IT, facilities, and clinical teams performed a rapid assessment of where to establish them overnight. For IT, our first action was to extend our secure corporate wireless into the parking lots and care areas. Other considerations included the utilization of workstations on wheels (WOWs), laptops, printing, patient flow, tents, and staffing. We quickly built technology templates, aligned with facilities on traffic patterns and clinical workflow. They were designed to be open six to nine weeks or as long as possible.
Epic application modification (EHR) – Our Epic team updated the EHR with a new build to book on-demand telephone visits, schedule future telephone visits and convert face-to-face visits to telephone visits (with patient consent). Epic assisted with COVID-19 dashboards and reports, while our internal team added orders for COVID-19 testing and built new patient visits and encounter fields. Our team quickly developed and conducted multiple virtual training sessions, produced and diligently updated tip sheets, and coordinated education sessions for clinicians, front office, and back-office staff.
Social Media and Brand Presence – The branding and communications department published COVID-19 information for patients and the community on our corporate website and employee-specific resources on our intranet. Patient updates were also included on our mobile patient portal platform – MyAltaMed.net
Provider Video Enablement – Our department quickly developed a plan to arrange video visits from providers to a patient using one vendor while simultaneously working on rapid, full Epic-MyChart integration (with a different vendor) to deploy within four weeks. We procured DX80 units for our providers and will be video enabling 50 different sites over the next few months. In early April, we will be live with video visits across all of our medical sites.
Remote Workforce – Additional corporate departments are working remotely to meet social distancing recommendations. We've moved 150 people to remote work by providing laptops and instructions to support the change.
Week 3 (March 23 – March 27) – Delivery, Operations, and Innovation
We opened five additional drive-through medical evaluation sites within 36 hours by following a template approach.
Continued application enhancements in Epic for ambulatory care, telephone visits, and professional billing.
Generated data and analytics to measure our COVID-19 response, in addition to our standard corporate reporting.
Selected video visit platforms for a short-term pilot and for a long-term fully Epic-integrated solution for patient care.
As I look back at the past three weeks, I am amazed at the way our organization and my department have rallied to meet the demands of this pandemic. There was a lot of hard delivery, long hours, vendor conversations, leadership, and encouragement to our front line. As a leader, this is a unique opportunity to examine how to lead and support the front lines. By supporting our staff as they were faced with difficult decisions, we were able to move quickly to meet our workforce's critical needs. Looking ahead, this new normal will be here for months, if not years, and we will continue to move forward and innovate in challenging times to deliver quality, patient-centric care that is affordable and convenient for our patients.