Omnicell-Transforming the Pharmacy Care Delivery Model

Nearly 30 years ago, Omnicell's Chairman, President, CEO, and Founder Randall Lipps found himself at the bedside of his wife and newborn daughter who were hospitalized. Lipps witnessed firsthand flaws in the healthcare supply chain that required nurses and healthcare staff to search for supplies or deal with paperwork instead of focusing on patient care. Drawing on his experience as an airline logistics engineer, Lipps envisioned a better way to support medication management. Similar to the airline industry, where planes were once dependent on human pilots, planes today can fly on autopilot through automated flight control processes. The vision of 'autopiloting' processes is the premise behind Omnicell's goal to fully automate the pharmacy care delivery model, providing better visibility to the pharmacy supply chain and removing administrative barriers and allow staff to focus on higher value clinical tasks.
Under Lipps' visionary leadership, Omnicell has grown from a single product to a full portfolio of medication management solutions, partnering with 3000 hospitals, maintaining almost 2 million active users, and developing a deep understanding of medication processes, technologies, and data. "We spent three decades transforming the pharmacy care delivery model," says Lipps. "While initially focused on supply chain and medication management, today we're working to streamline processes and eliminate manual tasks, delivering a best-in-class platform and solutions designed to automate every step of the medication management process." From the time a medication enters a hospital's central pharmacy inventory through dispensing and all the way to the patient's home, Omnicell's solutions are connecting medication inventory management processes across the entire healthcare infrastructure, improving quality, reducing costs, and increasing human efficiency.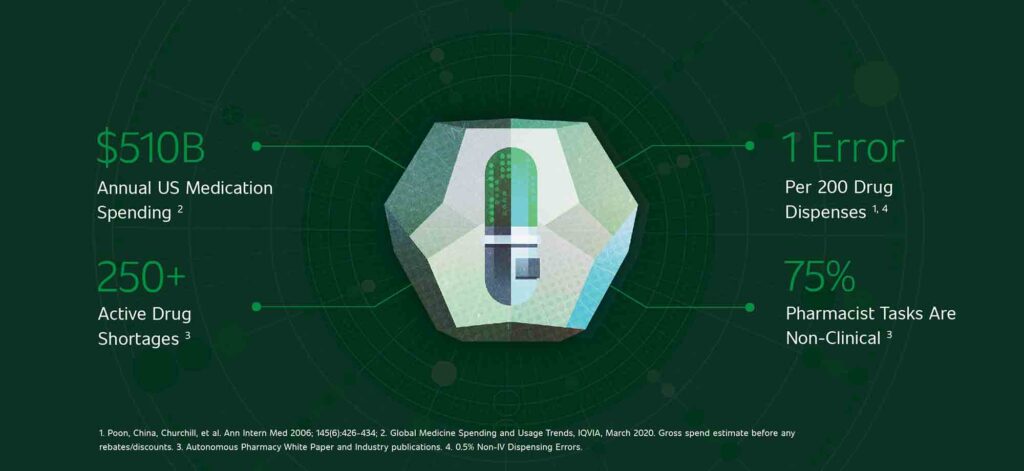 Texas Children's Hospital (TCH), one of the largest pediatric care hospitals in the United States, leverages Omnicell technology to support efficient medication management for its mother-baby and pediatric patient populations. As an innovative leader, Texas Children's sought the most advanced technology available to gain real-time visibility to their pharmacy supply chain, helping to combat drug waste, minimize human errors, and ultimately drive better outcomes. TCH now has about 95 percent real-time visibility into their inventory, resulting in a 16 percent reduction in medication management costs, an annual savings worth millions.
Autonomous Pharmacy: A Bold New Vision
The Autonomous Pharmacy is a strategic vision for the future of pharmacy enterprise where medication management processes become more automated as interoperable systems turn data into actionable advice. The Autonomous Pharmacy enables improvements that maximize safety, efficiency, and human potential while ensuring compliance and business outcomes. Nearly 50 percent of the Top 300 U.S. health systems (as defined by the Definitive Healthcare) are partnering with Omnicell on the Autonomous Pharmacy journey, a roadmap to develop a zero-error, fully automated medication management infrastructure.
"Industry leaders have coalesced around a roadmap to develop a zero-error, fully automated medication management infrastructure through a combination of hardware, software, and technology-enabled services designed to help providers to improve quality, reduce costs, and increase human efficiency," explains Lipps. The Autonomous Pharmacy Advisory Board is a coalition of health-system pharmacy leaders, nursing leaders, and pharmacy informaticists who have established a five-level framework to help health systems develop a strategic roadmap to achieve a fully autonomous pharmacy in key areas like enterprise structure, data intelligence, automation, IT infrastructure, and human activity. The goal is to eliminate barriers to data flow across the full continuum of care and support full visibility to the medication use process. The data intelligence incorporates health and business outcomes data to provide prescriptive, actionable advice for decision-makers and automation supports coherent, predictive medication management across all key pharmacy enterprise processes. The Autonomous Pharmacy addresses the most complex clinical, social, and financial medication-use problems that patients face.

"Health system pharmacies have not sufficiently taken advantage of data-driven automation to improve safety, quality, and business outcomes," explains Lipps. "For an industry that relies on data, automation is the key to enable pharmacists, technicians, and pharmacy staff to transition from focusing mostly on medication procurement and distribution processes to focusing on direct patient care, driving value from patient-centered care and value-based payment models."
Automation and Data-driven Disruptions Reign Beyond COVID Era
COVID-19 brought many of the challenges of medication management into the spotlight. From drug shortages that negatively impact population healthcare and well-being to diversion of drugs and rising cost of medications, these challenges put patients at undue risk. When the pandemic hit, hospitals and health systems grappled with the flaws in their medication supply chain. "Between make-shift care areas for COVID-19 patients with no place to house medications, drug shortages, and the manual tracking of medication inventory—challenges in health system medication management were revealed," Lipps elaborates. With the adoption of automated technology to support medication supply chain management, there is increased opportunity for AI to improve safety, enhance efficiency, and lower the cost of care. "As the pharmacy becomes fully intelligent and predictive, everything from medication procurement, medication filling and compounding, and human workflows will become more streamlined and efficient, removing disruption, errors, and waste, and optimizing all resources," adds Lipps, highlighting the relevance of automation and use of advanced technologies in healthcare in the pre- and post-pandemic world.
As the healthcare systems rapidly turned digital due to the pandemic, they began reflecting on the value of interoperable systems to provide medication supply chain visibility and predictive analytics as part of their larger big data strategy. The need to track and leverage insights from disparate systems became imperative. "Instead of being limited to only pharmacy data, truly digital health systems can access relevant information from other departments that are reliable and of high quality," says Lipps. "The ability to aggregate and analyze this information to reveal patterns, trends and associations have the potential to allow health system pharmacies to better manage the complex medication supply chain, while measuring performance against industry benchmarks." For the future, Omnicell will continue to enable the path to the Autonomous Pharmacy by delivering the most compelling automation and services. "We continue to focus on developing our technology-enabled services portfolio – supporting sterile compounding, central pharmacy dispensing, 340B management, and population health initiatives – through a combination of hardware, software, and services offerings delivered through the cloud," Lipps says. "We're committed to helping our health system partners achieve their strategic goals to improve clinical, financial, and operational outcomes."